Barça remains unbeatable in the postponement of today against the italian Sarzana. The team of Eduard Castro imposes for 7-1 and remains in the first place: the definitive grid for the quarterfinals will be decided in the last game, but with this results, both Barça and second Benfica are qualified in the quarterfinals as Lodi, Reus, Porto, Oliveirense and Deportivo. The 14th of March, the last matchday of the regular phase of Euroleague, will define all the pairings for the most important phase of the season before the Final Four.
ALL THE MATCHES WILL BE UPLOADED ON YOUTUBE
All the clubs will upload all the entire matches of all the european competitions in our Youtube Channel www.youtube.com/cersrinkhockeytv .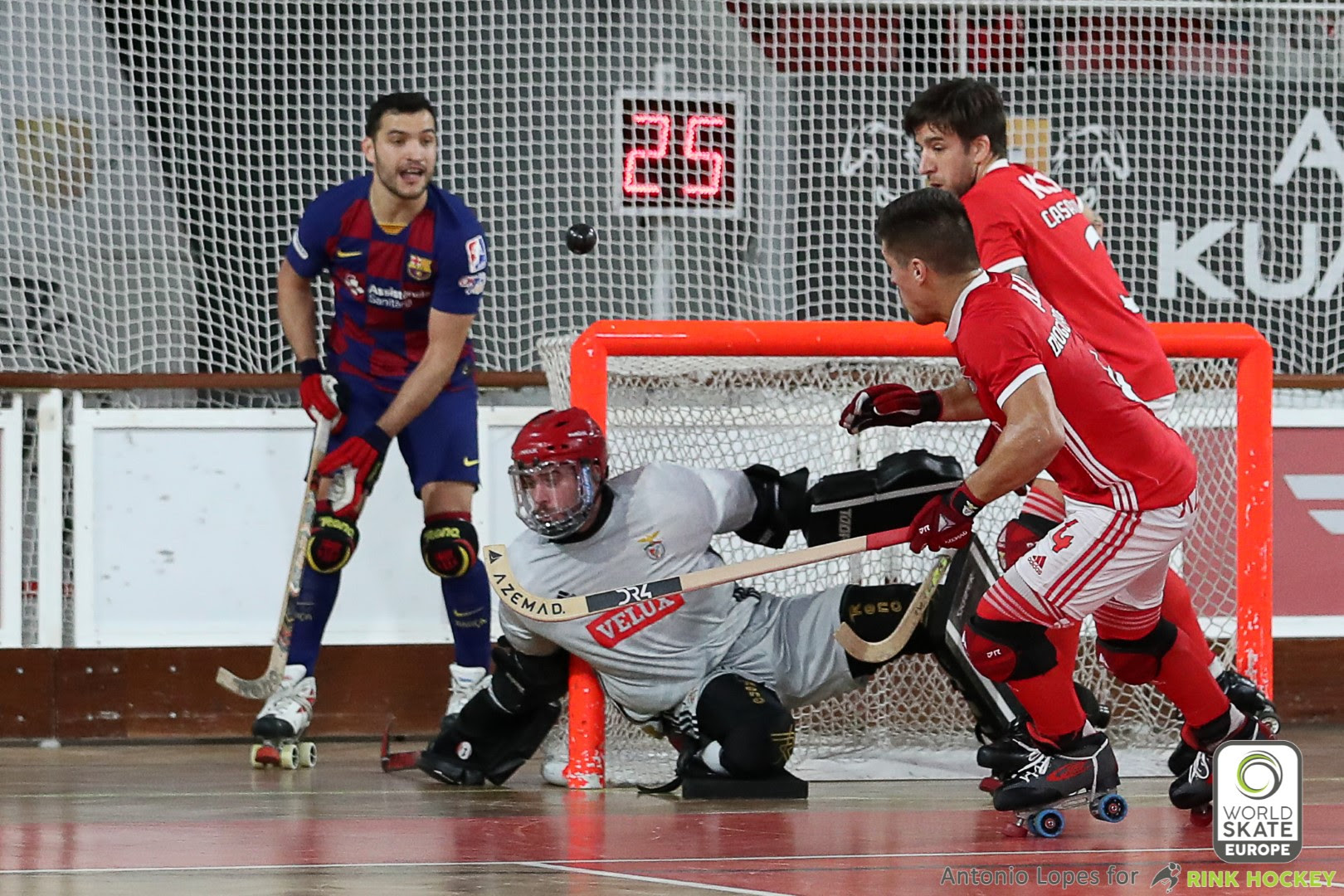 Photo of Antonio Lopes, a shot from Benfica-Barcelona
EUROLEAGUE – 5th MATCHDAY – Saturday 15th February 2020
GROUP A
h 20:00 PT – h 21:00 CET – Match #036 – Dinan Quevert (FR) x Reus Deportiu (SP) = 1-3
h 20:00 PT – h 21:00 CET – Match #037 – Amatori Wasken Lodi (IT) x Sporting CP (PT) = 5-1
STANDING: Amatori Lodi (IT) (+10) 12 points, Reus Deportiu (SP) (+6) 10 points, Sporting CP (PT) (-2) 7 points, Dinan-Quevert (FR) (-14) 0 points
Amatori Lodi & Reus Deportiu qualified to Quarterfinals
Next round – 6th matchday – Saturday 14th March 2020 (time to be definited) – Reus Deportiu (SP) x Amatori Wasken Lodi (IT) – Sporting CP (PT) x Dinan Quevert (FR)
GROUP B
h 16:00 PT – h 17:00 CET – Match #038 – RC Biasca (CH) x CE Noia (SP) = 3-5
h 19:45 PT – h 20:45 CET – Match #039 – HRC Monza (IT) x FC Porto (PT) = 2-3
STANDING: FC Porto (PT) (+21) 12 points, Ce Noia (SP) (+12) 10 points; HRC Monza (IT) (-5) 7 points, RC Biasca (CH) 0 points (-28)
FC Porto qualified to quarterfinals
Next round – 6th matchday – Saturday 14th March 2020 (time to be definited) – CE Noia (SP) x HRC Monza (IT) – FC Porto (PT) x RC Biasca (CH)
GROUP C
h 17:00 PT – h 18:00 CET – Match #040 – SKG Herringen (DE) x SL Benfica (PT) = 3-4
h 11:00 PT – h 12:00 CET – Match #041 – Barça (SP) x H Sarzana (IT) = 7-1
STANDING: Barça (SP) (+23) 13 points, SL Benfica (PT) (+18) 10 points, H. Sarzana (IT) (-17) 4 points, SKG Herringen (DE) (-24) 1 point
Barça and SL Benfica qualified to quarterfinals
Next round – 6th matchday – Saturday 14th March 2020 (time to be definited) – SL Benfica (PT) x H Sarzana (IT) – Barça (SP) x SKG Herringen (DE)
GROUP D
h 19:30 PT – h 20:30 CET – Match #042 – SCRA Saint Omer (FR) x UD Oliveirense (PT) = 4-5
h 19:00 PT – h 20:00 CET – Match #043 – Deportivo Liceo (SP) x H. Forte dei Marmi (IT) = 2-1
STANDING: UD Oliveirense (PT) (+11) and Deportivo Liceo (SP) (+8) 12 points, H. Forte (IT) (-9) 4 points, SCRA Saint Omer (FR) (-10) 0 points
UD Oliveirense and Deportivo Liceo qualified to quarterfinals
Next round – 6th matchday – Saturday 14th March 2020 (time to be definited) -.UD Oliveirense (PT) x Deportivo Liceo (SP) – H. Forte dei Marmi (IT) x SCRA Saint-Omer (FR)
EUROLEAGUE – QUARTERFINALS – 1st Leg – Saturday 28th Match 2020 – 2nd Leg: Saturday 18th April 2020
Match #052 – 2nd Group D x 1st Group A /// Match #056 – 1st Group A x 2nd Group D
Match #053 – 2nd Group C x 1st Group B /// Match #057 – 1st Group B x 2nd Group C
Match #054 – 2nd Group B x 1st Group C /// Match #058 – 1st Group C x 2nd Group B
Match #055 – 2nd Group A x 1st Group D /// Match #059 – 1st Group D x 2nd Group A
WS EUROPE CUP – QUARTERFINALS – 1st Leg – 15/2/2020
h 19:15 PT – h 20:15 CET – Match #107 – CP Voltregà (SP) x CH Caldes (SP) = 3-2
h 21:30 PT – h 22:30 CET – Match #108 – OC Barcelos (PT) x Igualada HC (SP) = 6-4
h 21:00 PT – h 22:00 CET – Match #109 – HC Braga (PT) x Follonica H (IT) = 7-4
h 19:45 PT – h 20:45 CET – Match #110 – GSH Trissino (IT) x RHC Dornbirn (AT) = 10-2
WS EUROPE CUP – QUARTERFINALS – 2nd Leg – 14/3/2020
Match #111 – CH Caldes (SP) x CP Voltregà (SP)
Match #112 – Igualada HC (SP) x OC Barcelos (PT)
Match #113 – Follonica H (IT) x HC Braga (PT)
Match #114 – RHC Dornbirn (AT) x GSH Trissino (IT)
WS EUROPE CUP – FINAL FOUR – 25th and 26th April 2020
SEMIFINALS
Match #115 – Winner Match 107/111 x Winner Match 110/114
Match #116 – Winner Match 108/112 x Winner Match 109/113
FINAL
Match #117 – Winner Match 115 x Winner Match 116
PRESS KIT AND USEFUL INFORMATION FOR MEDIA
Media Guide Sporting Season 2019-20 -> Click for download
Press Kit Euroleague 2019-20 – GROUP A -> Click for download
Press Kit Euroleague 2019-20 – GROUP B -> Click for download
Press Kit Euroleague 2019-20 – GROUP C -> Click for download
Press Kit Euroleague 2019-20 – GROUP D -> Click for download
Press Kit WS Europe Cup 2019-20 -> Click for download
Press Kit Female League Cup 2019-20 – GROUP A -> Click for download
Press Kit Female League Cup 2019-20 – GROUP B -> Click for download
HandBook Sporting Season 2018-19 -> Click for download