All the eyes of this third matchday will be for Benfica-Barcelona, the big match for the Group D. Who will lead the group after the two easy matchdays? In the same group, the last teams will be front for conquering the first victory (Herringen-Sarzana). Another three amazing matches on Saturday: for the Group A Reus-Sporting, for Group B Noia-Porto and for the Group D Oliveirense-Forte . In all the cases, the portuguese teams could be flying in the standing if they will win their games. 10 the live streaming through our webtv and in our Youtube channel.
ALL THE MATCHES WILL BE UPLOADED ON YOUTUBE
All the clubs will upload all the entire matches of all the european competitions in our Youtube Channel www.youtube.com/cersrinkhockeytv .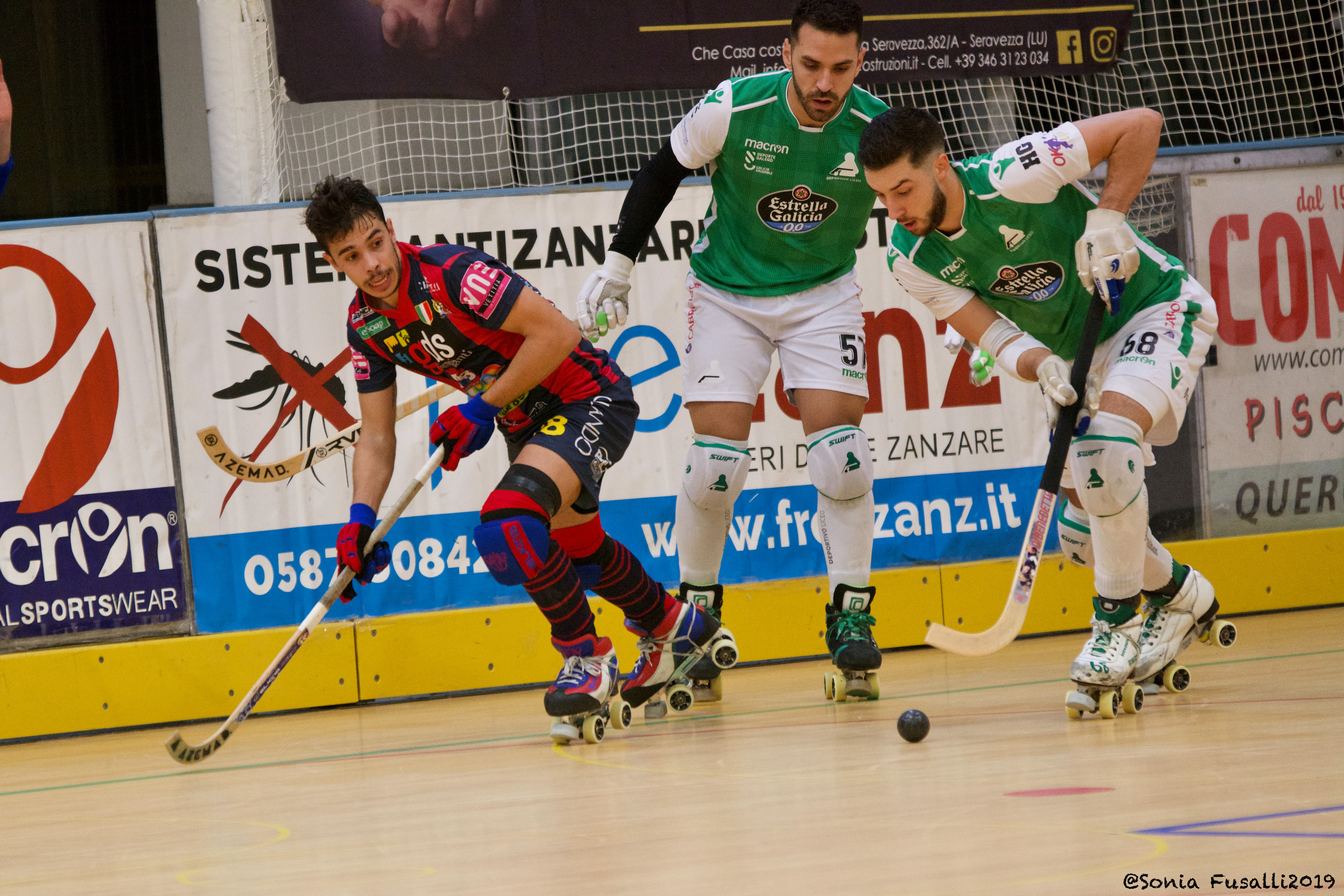 Photo of Sonia Fusalli, Marti Casas (Forte dei Marmi) Franco Platero and Roberto Di Benedetto (Deportivo Liceo)
EUROLEAGUE – 3rd MATCHDAY – Saturday 14th December 2019
GROUP A
h 20:00 PT – h 21:00 CET – Match #020 – Dinan Quevert (FR) x Amatori Wasken Lodi (IT) – Referees: Miguel Guilherme (PT) and Luis Peixoto (PT) – Live Youtube www.youtube.com/cersrinkhockeytv
h 20:00 PT – h 21:00 CET – Match #021 – Reus Deportiu (SP) x Sporting CP (PT) – Referees: Filippo Fronte (IT) and Alessandro Eccelsi (IT) – Live Youtube www.youtube.com/cersrinkhockeytv
STANDING: Sporting CP (PT) (+3) 6 points, Reus Deportiu (SP) (+3) and Amatori Lodi (IT) (-1) 3 points, Dinan-Quevert (FR) (-5) 0 points
Next round – 4th matchday – Saturday 18th January 2020 (time to be definited) – Amatori Wasken Lodi (IT) x Dinan Quevert (FR) – Sporting CP (PT) x Reus Deportiu (SP)
GROUP B
h 16:00 PT – h 17:00 CET – Match #022 – RC Biasca (CH) x HRC Monza (IT) – Referees: Julien Thibaud (FR) and Nuno Melo (FR) – Live RSI and www.cers-rinkhockey.tv
h 15:00 PT – h 16:00 CET – Match #023 – CE Noia (SP) x FC Porto (PT) – Referees: Luca Molli (IT) and Massimiliano Carmazzi (IT) – Live ESPORTS 3 and www.cers-rinkhockey.tv
STANDING: FC Porto (PT) (+20) 6 points, Ce Noia (SP) (+10) 4 points; HRC Monza (IT) (-9) 1 point, RC Biasca (CH) 0 points (-21)
Next round – 4th matchday – Saturday 18th January 2020 (time to be definited) – HRC Monza (IT) x RC Biasca (CH) – FC Porto (PT) x CE Noia (SP)
GROUP C
h 17:00 PT – h 18:00 CET – Match #024 – SKG Herringen (DE) x H. Sarzana (IT) – Referees: Karl Wilson (EN) and Bruno Sosa (EN)
h 16:00 PT – h 17:00 CET – Match #025 – SL Benfica (PT) x FC Barcelona (SP) – Referees: Matteo Galoppi (IT) and Franco Ferrari (IT) – Live BENFICA TV and www.cers-rinkhockey.tv
STANDING: FC Barcelona (SP) (+20) and SL Benfica (PT) (+15) and 6 points, H. Sarzana (IT) (-15) and SKG Herringen (DE) (-19) 0 points
Next round – 4th matchday – Saturday 18th January 2020 (time to be definited) – H Sarzana (IT) x SKG Herringen (DE) – FC Barcelona (SP) x SL Benfica (PT)
GROUP D
h 19:30 PT – h 20:30 CET – Match #026 – SCRA Saint Omer (FR) x Deportivo Liceo (SP) – Referees: Rui Torres (PT) and Paulo Rainha (PT) – Live Youtube www.youtube.com/cersrinkhockeytv
h 17:30 PT – h 18:30 CET – Match #027 – UD Oliveirense (PT) x HC Forte dei Marmi (IT) – Referees: Josep Ribo' (SP) and Raul Burgos (SP) – Live www.cers-rinkhockey.tv
STANDING: UD Oliveirense (PT) 6 points (+6), Deportivo Liceo (SP) (+1) 3 points, SCRA Saint Omer (FR) (-3) and H. Forte (IT) (-4) 1 point
Next round – 4th matchday – Saturday 18th January 2020 (time to be definited) -.H. Forte dei Marmi x (IT) x UD Oliveirense (PT) – Deportivo Liceo (SP) x SCRA Saint Omer (FR)
WS EUROPE CUP – 1/8 round – 1st Leg – 14/12/2019
Match #091 – h 19:30 PT – h 20:30 CET – Girona HC (SP) x Follonica H (IT) – Referees: Josè Pinto (PT) and Joaquim Pinto (PT)
Match #092 – h 19:00 PT – h 20:00 CET – RHC Lyon (FR) x RHC Dornbirn (AT) – Referees: Steff Jordi (CH) and Urs Dornbierer (CH) – Live Youtube www.youtube.com/cersrinkhockeytv
Match #093 – h 21:30 PT – h 22:00 CET – Juventude Viana (PT) x GSH Trissino (IT) – Referees: Sergi Mayor (SP) and Isaac Sanz (SP) – Live Youtube www.youtube.com/cersrinkhockeytv
Match #094 – h 19:00 PT – h 20:00 CET – CH Caldes (SP) x La Vendenne (FR) – Referees: Paulo Almeida (PT) and Silvia Coelho (PT)
Match #095 – h 21:30 PT – h 22:30 CET – OC Barcelos (PT) x CE Lleida Llista (SP) – Referees: Joseph Silecchia (IT) and Giovanni Andrisani (IT)
Match #096 – h 18:00 PT – h 19:00 CET – HC Braga (PT) x Hockey Valdagno 1938 (IT) – Referees: Arnaud Esoli (FR) and Loic Le Menn (FR)
Match #097 – h 19:45 PT – h 20:45 CET – HR Scandiano (IT) x Igualada HC (SP) – Referees: Joao Duarte (PT) and Jaime Viera (PT) – Live www.cers-rinkhockey.tv
Match #098 – h 19:00 PT – h 20:00 CET – CP Voltregà (SP) x RHC Wolfurt (AT) – Referees: Roland Eggimann (CH) and Johannes Schneider (CH)
WS EUROPE CUP – 1/8 round – 2nd Leg – 18/1/2020 Time to be Definited
Match #099 – Follonica H (IT) x Girona HC (SP)
Match #100 – RHC Dornbirn (AT) x RHC Lyon (FR)
Match #101 – GSH Trissino (IT) x Juventude Viana (PT)
Match #102 – La Vendeenne (FR) x CH Caldes (SP)
Match #103 – CE Lleida Llista (SP) x OC Barcelos (PT)
Match #104 – Hockey Valdagno 1938 (IT) x HC Braga (PT)
Match #105 – Igualada HC (SP) x HR Scandiano (IT)
Match #106 – RHC Wolfurt (AT) x CP Voltregà (SP)
PRESS KIT AND USEFUL INFORMATION FOR MEDIA
Media Guide Sporting Season 2019-20 -> Click for download
Press Kit Euroleague 2019-20 – GROUP A -> Click for download
Press Kit Euroleague 2019-20 – GROUP B -> Click for download
Press Kit Euroleague 2019-20 – GROUP C -> Click for download
Press Kit Euroleague 2019-20 – GROUP D -> Click for download
Press Kit WS Europe Cup 2019-20 -> Click for download
Press Kit Female League Cup 2019-20 – GROUP A -> Click for download
Press Kit Female League Cup 2019-20 – GROUP B -> Click for download
HandBook Sporting Season 2018-19 -> Click for download