Saturday will be scheduled the second matchday of Euroleague's Regular Phase. The most important match of the weekend will be Deportivo-Oliveirense for the Group D, the first of OkLliga against the second of 1st Divisao. Also in the Group A Lodi-Reus probably will determine the opportunities to qualify for the italian team, first in Serie A1. Sporting instead will be busy to win in France for continuing the undefeated european record of 18 months (last lost 15 may 2018). In the Group B, Porto and Noia want to continue to win in their matches, instead of Barcelona and Benfica in Group C, will have two easy matches in the table. In the WS Europe Cup many matches very interesting for qualifying to the 1/8 round. Voltregà will be the most awaited match of the saturday, after the score of 2-3 for Coutras in the first leg; an eye also to the matches between Montreux-Follonica and Diessbach-Trissino, where the italians are ahead only for 2 goals. As the swiss teams, also Cronenberg need a great victory for overturning the first leg with two goals less than La Vendeenne.
LIVE RESULTS
We will inform you after the last game of the day of all the results by email. If you want live official results please follow us on Twitter hashtag #okeuro #okeuropecup or in our website in the two dedicated section, www.wseurope-rinkhockey.org/euroleague and www.wseurope-rinkhockey.org/wseuropecup
ALL THE MATCHES WILL BE UPLOADED ON YOUTUBE
All the clubs will upload all the entire matches of all the european competitions in our Youtube Channel www.youtube.com/cersrinkhockeytv .
EUROLEAGUE – 1st MATCHDAY – Saturday 19th October 2019
GROUP A
h 20:00 PT – h 21:00 CET – Match #012 – Amatori W. Lodi (IT) x Reus Deportiu (SP) – Live www.cers-rinkhockey.tv
h 20:00 PT – h 21:00 CET – Match #013 – Dinan Quevert (FR) x Sporting CP (PT) – Live www.youtube.com/cersrinkhockeytv
STANDING: Reus Deportiu (SP) (+4) and Sporting CP (PT) (+2) 3 points, Amatori Lodi (IT) (-2) and Dinan-Quevert (FR) (-4) 0 points
Next round – 3rd matchday – Saturday 14th December 2019 (time to be definited) – Dinan Quevert (FR) x Amatori Lodi (IT) – Reus Deportiu (SP) x Sporting CP (PT)
GROUP B
h 19:45 PT – h 20:45 CET – Match #014 – HRC Monza (IT) x CE Noia (SP) – Live www.cers-rinkhockey.tv
h 16:00 PT – h 17:00 CET – Match #015 – RC Biasca (CH) x FC Porto (PT) – Live www.cers-rinkhockey.tv and RSI Web
STANDING: Ce Noia (SP) (+10) and FC Porto (PT) (+9) 3 points, HRC Monza (IT) (-9) and RC Biasca (CH) 0 points (-10)
Next round – 3rd matchday – Saturday 14th December 2019 (time to be definited) – RC Biasca (CH) x HRC Monza (IT) – CE Noia (SP) x FC Porto (PT)
GROUP C
h 20:00 PT – h 21:00 CET – Match #016 – H. Sarzana (IT) x SL Benfica (PT) – Live www.cers-rinkhockey.tv
h 17:00 PT – h 18:00 CET – Match #017 – SKG Herringen (DE) x FC Barcelona (SP)
STANDING: SL Benfica (PT) (+14) and FC Barcelona (SP) (+10) 3 points, H. Sarzana (IT) (-10) and SKG Herringen (DE) (-14) 0 points
Next round – 3rd matchday – Saturday 14th December 2019 (time to be definited) – SKG Herringen (DE) x H Sarzana (IT) – SL Benfica (PT) x FC Barcelona (SP)
GROUP D
h 19:00 PT – h 20:00 CET – Match #018 – Deportivo Liceo (SP) x UD Oliveirense (PT)
h 19:30 PT – h 20:30 CET – Match #019 – SCRA Saint Omer (FR) x HC Forte dei Marmi (IT) – Live www.youtube.com/cersrinkhockeytv
STANDING: Deportivo Liceo (SP) (+4) and UD Oliveirense (PT) 3 points (+3), SCRA Saint Omer (FR) (-3) and H. Forte (IT) (-4) 0 points
Next round – 3rd matchday – Saturday 14th December 2019 (time to be definited) -.UD Oliveirense (PT) x H. Forte dei Marmi (IT) – SCRA Saint Omer (FR) x Deportivo Liceo (SP)
WS EUROPE CUP – 1/16 – 2nd LEG
Quarterfinals: 1st Leg – 14/12/2019
h 18:00 PT – h 19:00 CET – Match #077 – HC Montreux (CH) x Follonica H. (IT) – 1st Leg: 3-5 – Live www.youtube.com/cersrinkhockeytv
h 18:00 PT – h 19:00 CET – Match #078 – HC Braga (PT) x IGR Remscheid (DE) – 1st Leg: 16-0
h 19:00 PT – h 20:00 CET – Match #079 – RSC Darmstadt (DE) x HR Scandiano (IT) – 1st: 4-15
h 19:15 PT – h 20:15 CET – Match #080 – Soham RHC (ENG) x RHC Dornbirn (AT) – 1st Leg: 0-8 – Live www.youtube.com/cersrinkhockeytv
h 19:30 PT – h 20:30 CET – Match #081 – SPRS Ploufragan (FR) x RHC Wolfurt (AT) – 1st Leg: 2-4 – Live www.youtube.com/cersrinkhockeytv
h 16:30 PT – h 17:30 CET – Match #082 – Geneve RHC (CH) x OC Barcelos (PT) – 1st Leg: 1-8 – Live www.youtube.com/cersrinkhockeytv
h 19:30 PT – h 20:30 CET – Match #083 – Nantes ARH (FR) x CH Caldes (SP) – 1st Leg: 1-6 – Live www.youtube.com/cersrinkhockeytv
h 19:00 PT – h 20:00 CET – Match #084 – Igualada HC (SP) x RHC Wimmis (CH) – 1st Leg: 10-1
h 16:30 PT – h 17:30 CET – Match #085 – RHC Diessbach (CH) x GSH Trissino (IT) – 1st Leg: 1-3
h 19:30 PT – h 20:30 CET – Match #086 – Girona HC (SP) x TuS Dusseldorf Nord (DE) – 1st Leg: 7-0 – Live www.youtube.com/cersrinkhockeytv
h 19:00 PT – h 20:00 CET – Match #087 – CP Voltregà (SP) x US Coutras (FR) – 1st Leg: 2-3
h 19:00 PT – h 20:00 CET – Match #088 – RSC Cronenberg (DE) x La Vendeenne (FR) – 1st Leg: 6-8 – – Live www.cers-rinkhockey.tv and https://sportdeutschland.tv/
h 21:30 PT – h 22:30 CET – Match #089 – Juventude Viana (PT) x RSC Uttigen (CH) – 1st Leg: 5-2
h 21:15 PT – h 22:15 CET – Match #090 – London HRC (ENG) x RHC Lyon (FR) – 1st Leg: 1-7 – Live www.youtube.com/cersrinkhockeytv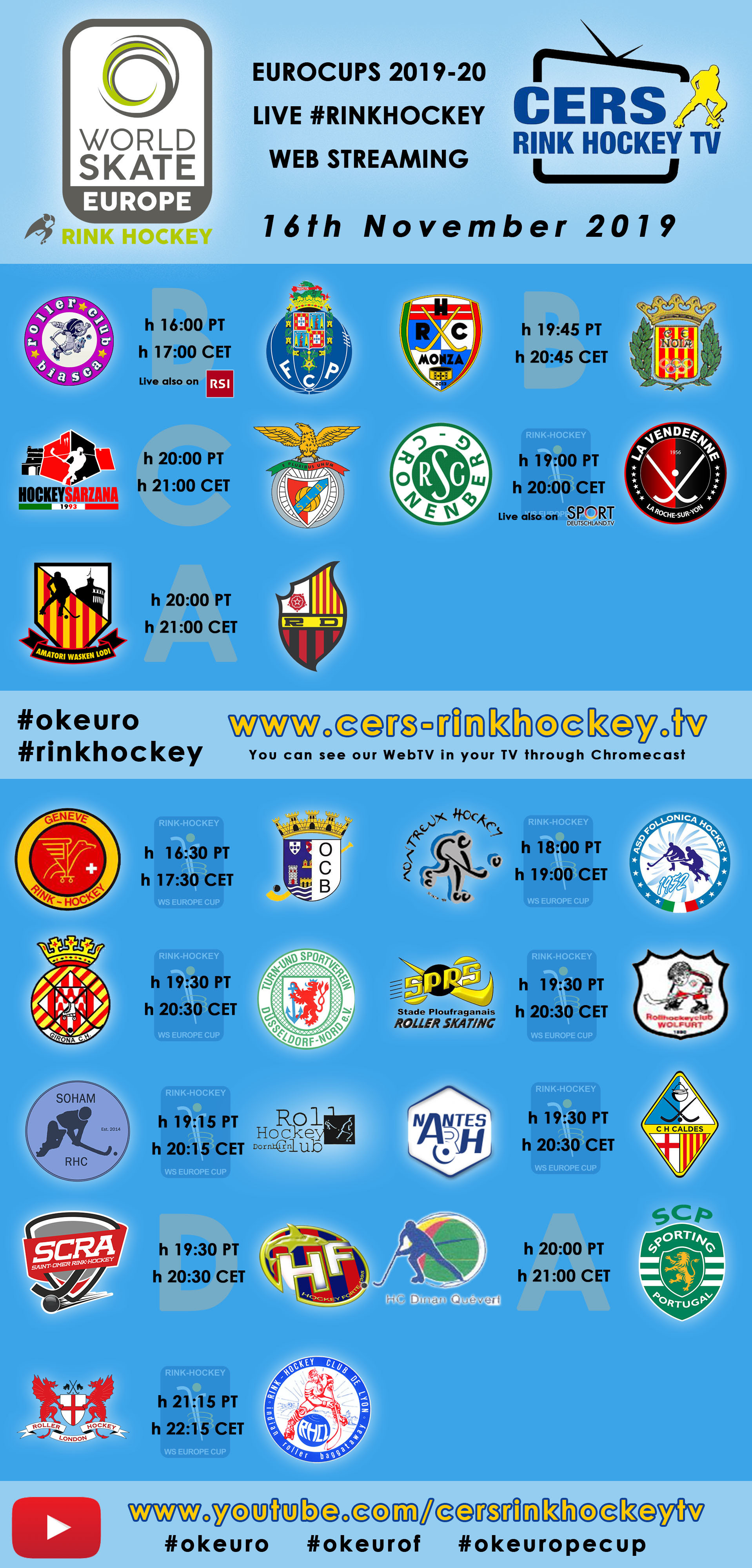 PRESS KIT AND USEFUL INFORMATION FOR MEDIA
Media Guide Sporting Season 2019-20 -> Click for download
Press Kit Euroleague 2019-20 – GROUP A -> Click for download
Press Kit Euroleague 2019-20 – GROUP B -> Click for download
Press Kit Euroleague 2019-20 – GROUP C -> Click for download
Press Kit Euroleague 2019-20 – GROUP D -> Click for download
Press Kit WS Europe Cup 2019-20 -> Click for download
Press Kit Female League Cup 2019-20 – GROUP A -> Click for download
Press Kit Female League Cup 2019-20 – GROUP B -> Click for download
HandBook Sporting Season 2018-19 -> Click for download