RTP1, RTP Africa, RTP Internacional, Rai Sport and Teledeporte will broadcast on tv all the matches of Portugal (RTP group), Italy (Rai – Rai Sport) and Spain (TVE – Teledeporte).
Three national radios accredited for the event, Radio Antena 1, Radio Renascença, Radio TSF.
All the biggest Portuguese newspapers are accredited to the event, Abola, Jornal FM, Jornal de Noticias, O Jogo, Record and the news agency Lusa.
Accredited from Sport Website, ZeroZero, from the Rink Hockey specialized websites Hockeyglobal, Hoquei Minhoto, hoqueipatins, HoqueiPT, JornalFM and from local press Barcelos Popular and O Progresso de Paredes. The press staff and officers of FPP (Federação de Patinagem de Portugal), FEP (Real Federación Española de Patinaje) and FISR (Federazione Italiana Sport Rotellistici) will be present with updates from the rink in the social networks.
26 the photographers allowed for a total of 70 press accreditations.
LIVE STREAMING COVERAGE
The WEBTV of World Skate Europe. will be broadcasted by http://europe.worldskate.tv with the portuguese voice of Josè Santos and the Spanish voice of Adrian Dolz. After every match will be broadcasted live also the press conferences in the same feed of the game.
After the matches, you will find the Highlights in our WebTV and also in our new Youtube Channel https://www.youtube.com/c/EURORINKHOCKEYTV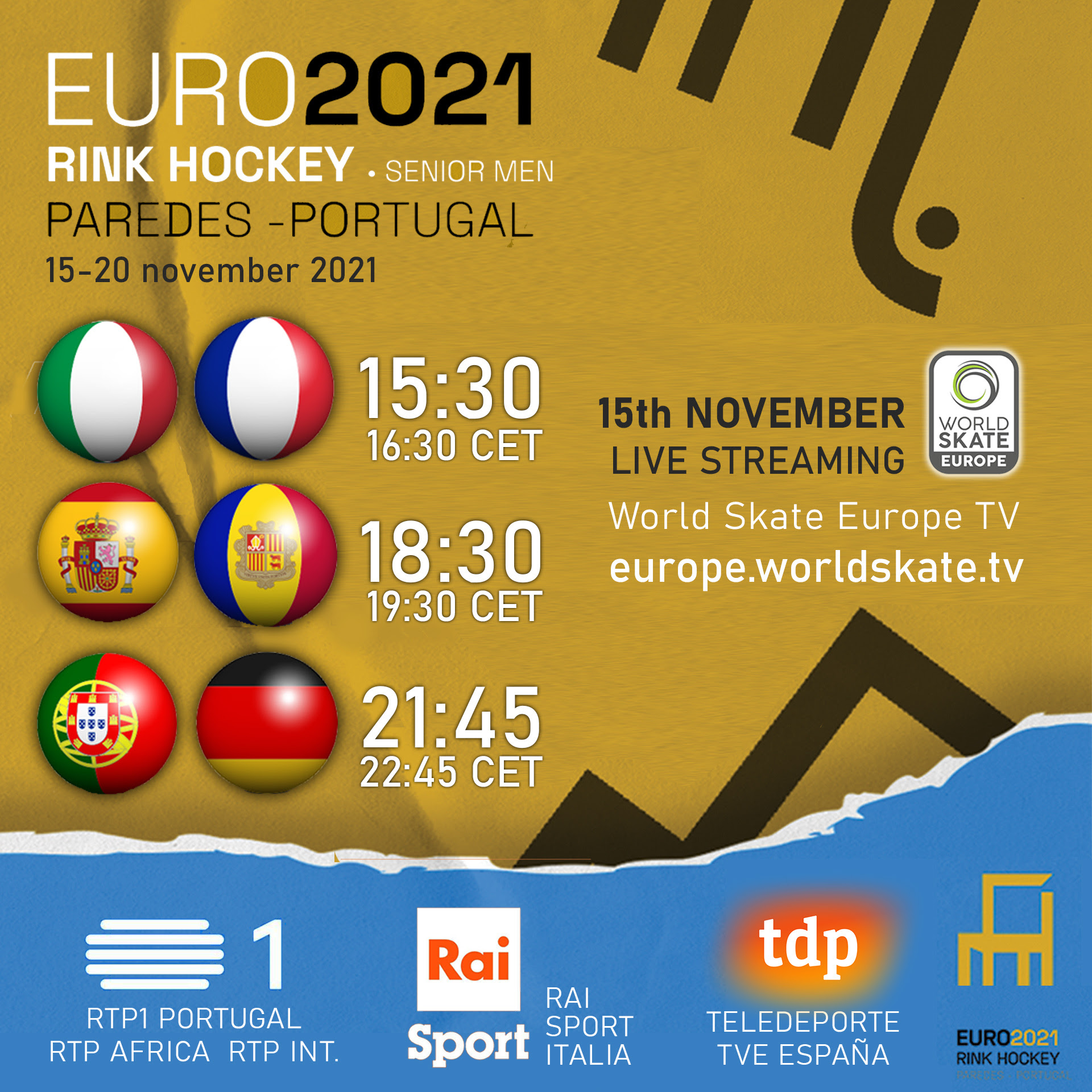 Schedule – Pavilhão Municipal de Paredes (Portugal)
1st matchday – Monday 15th November 2021
15:30 (local time – GMT | 16:30 CET) – Italy x France – LIVE RaiSport – LIVE WSETV
18:30 (local time – GMT | 19:30 CET) – Spain x Andorra – LIVE Teledeporte – LIVE WSETV
20:45 (local time – GMT | 21:45 CET) – OPENING Ceremony – LIVE WSETV
21:45 (local time – GMT ! 22:45 CET) – Portugal x Germany – LIVE RTP1, Rtpi, RtpA – LIVE WSETV
2nd matchday – Tuesday 16th November 2021
15:30 (local time – GMT | 16:30 CET) – Italy x Spain – LIVE RaiSport – LIVE Teledeporte – LIVE WSETV
18:30 (local time – GMT | 19:30 CET) – Andorra x Germany – LIVE WSETV
21:45 (local time – GMT | 22:45 CET) – France x Portugal – LIVE RTP1, Rtpi, RtpA – LIVE WSETV
3rd matchday – Wednesday 17th November 2021
15:30 (local time – GMT | 16:30 CET) – Germany x Spain – LIVE Teledeporte – LIVE WSETV
18:30 (local time – GMT | 19.30 CET) – Andorra x France – LIVE WSETV
21:45 (local time – GMT | 22:45 CET) – Portugal x Italy – LIVE RTP1, Rtpi, RtpA – LIVE RaiSport – LIVE WSETV
4th matchday – Thursday 18th November 2021
15:30 (local time – GMT | 16:30 CET) – France x Germany – LIVE WSETV
18:30 (local time – GMT | 19:30 CET) – Italy x Andorra – LIVE RaiSport – LIVE WSETV
21:45 (local time – GMT | 22:45 CET) – Spain x Portugal – LIVE RTP1, Rtpi, RtpA – – LIVE Teledeporte – LIVE WSETV
5th matchday – Friday 19th November 2021
15:30 (local time – GMT | 16:30 CET) – Italy x Germany – LIVE RaiSport WEB – LIVE WSETV
18:30 (local time – GMT | 19:30 CET) – France x Spain – LIVE WSETV
21:45 (local time – GMT | 22:45 CET) – Portugal x Andorra – LIVE RTP1, Rtpi, RtpA – LIVE WSETV
Final day – Saturday 20th November 2021
14:30 (local time – GMT | 15:30 CET) – Final 5th-6th place
17:00 (local time – GMT | 18:00 CET) – Final 3rd-4th place
20:00 (local time – GMT | 21:00 CET) – Final 1st-2nd place